It's that time of year again when city chefs compete with themselves to come up with the wackiest idea to present on a set. And the challenge is to present something delicious and at the same time bloody to go with the spooky theme. From skulls and devil faces to bloody margaritas and voodoo cocktails, one can find a perfect platter to pose with this Halloween.
Mystical-looking cocktails are very popular during Halloween (Café Delhi Heights, Molecule and Social)
Some "bloody" drinks for this Halloween
Special Halloween menus with delicacies like devil's fingers and pumpkin risotto are quite common in restaurants, but now a range of special Halloween cocktails can be found as well. "We came up with a special cocktail called Jadu Tona for Halloween. It is made with cinnamon whiskey and garnished with jelly worms and eye candy, "informs Satyajit Dhingra of Impresario Handmade restaurant. "We've created drinks like the Purple People Eater, Itsy Bitsy, and other spooky cocktails for Halloween. This is an occasion when people are looking for something different to pose with when they go out, they put extra effort into the costumes, makeup, etc. for the night and the idea is to give them a different experience, "explains Vikrant Batra of Café Delhi. Heights. "Everything here gets a Halloween makeover and the drinks are an important part of the theme, so the idea is to come up with unique names, as we have drinks called Vampire's Kiss and Frankenstein's Birth on our special Halloween menu," said a spokesperson for Foxtrot.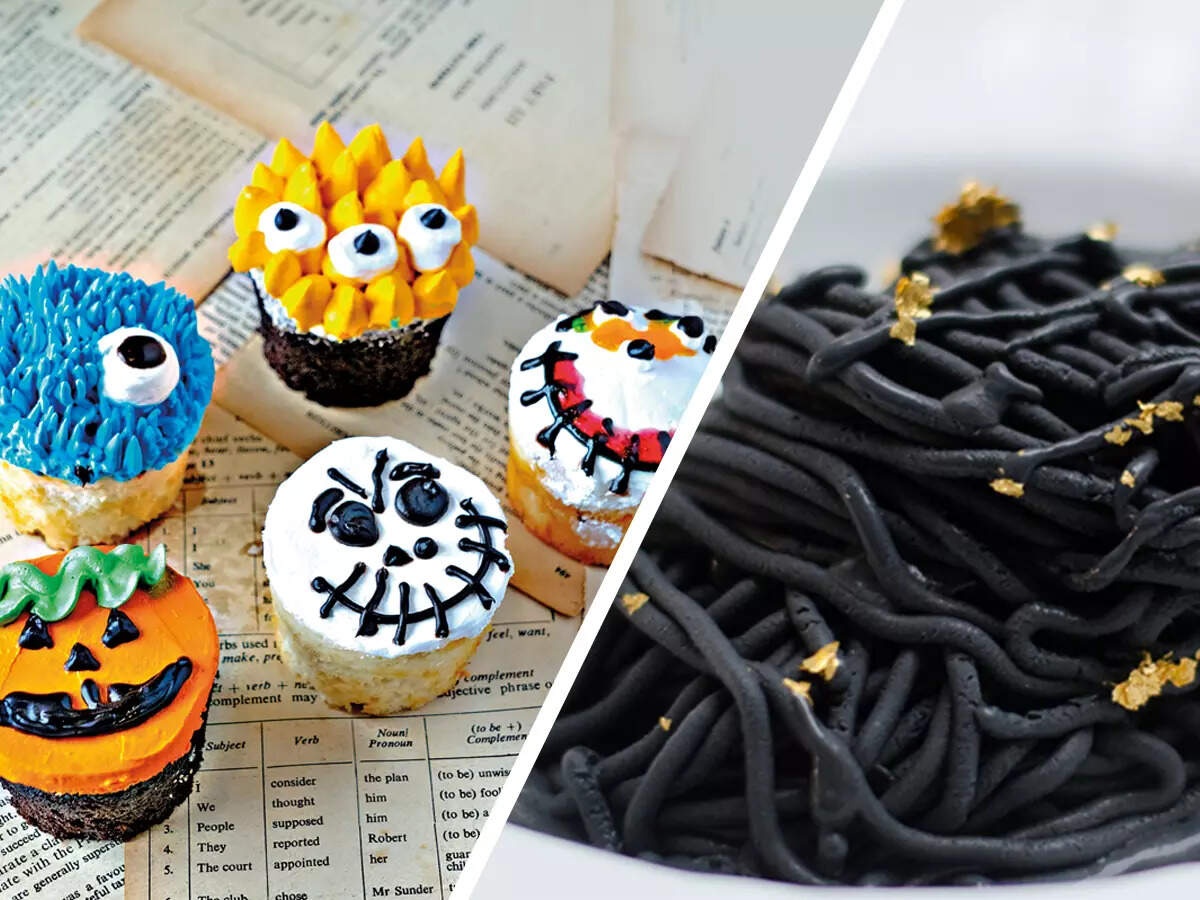 Special Halloween cupcakes (Bakehouse Comfort from Delhi Heights) and spooky black spaghetti (The Art of Dumpling)
Spider pies and devil's fingers
Imagine crispy eyeballs, blood drenched fingers, and floating eyeball soup! "Our chefs are also working on a special spooky pizza. We want to present a menu that looks perfectly bloody, "says Pushpendra Dwivedi from Pllatos. Other common specialties served on Halloween are evil eye bread, pumpkin risotto, and chicken fingers presented as devil's fingers. There are also some spooky desserts. "We have a range of cupcakes and cakes designed for Halloween," informs Gunjan Batra of Bakehouse Comfort by Cafe Delhi Heights.