California's Oakland Museum is set to see an increase in foodie visitors thanks to a recognizable chef taking over the menu at Town Fare Cafe, the OMCA's restaurant. The chef behind San Francisco's former Gussie's Chicken and Waffles, Michele McQueen, now steers the ship to Town Fare and his new menu is now debuting. "McQueen's new menu for Town Fare pays homage to his family roots and upbringing in Oakland and aims to bring together the flavors of diverse cultures within the local community," the museum's website reads.
Michele McQueen. Photo credit: OMCA
Town Fare Cafe has been somewhat in limbo since celebrity chef Tanya Holland left the restaurant in January. Since then, the menu has had a Hawaiian theme thanks to Hawaiian chef Puaokalani Barquis, who was hired as a temporary replacement until the museum makes a permanent hire. With the addition of McQueen, the restaurant now seems to have a clear focus, centering on Southern cuisine but including other influences. OMCA CEO Lori Fogarty said in a statement to SFGate, "Her approach to food and hospitality is the perfect fit for OMCA – both embody a deep commitment to bringing people together through art, history, and science with a "flare" that is Oakland's signature."
Of course, McQueen's new menu includes his expertly prepared fried chicken, which was put together through his work at Gussie and while running a Northern California location of the Los Angeles-based chain, Roscoe's Chicken & Waffles. . Town Fare's fried chicken comes with kidney beans, chow chow, rice and cornbread. Other starters include grilled salmon with field pea succotash, chicken andouille and low country shrimp and grits. On the appetizer side, you'll find Caprese salad with fried green tomatoes and dip-ables with a southern twist, like black-eyed pea hummus, collard greens dip, and chili cheese. McQueen said in a statement, "Oakland represents many different cultures and I want the Town Fare menu to reflect that."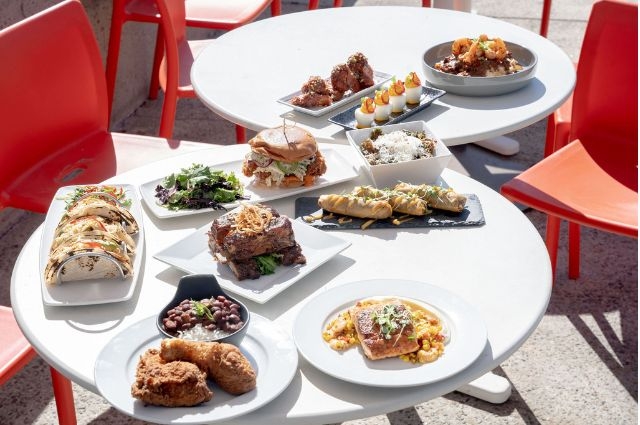 Photo credit: OMCA
There will also be a full list of beers, wines and cocktails from black-owned businesses, including Uncle Nearest Premium Whiskey, Hella Coastal Brewery and Wachira Wines. According to Eater, "McQueen has also partnered with SweetWater Consulting's Sadé Stamps on a cocktail menu with options such as the Bissap Rum Punch made with sorrel and allspice and the Hot Oaxaca, a mezcal blend , watermelon sangrita and guajillo peppers".
With McQueen's debut comes a large new dining area on the sunny terrace at Town Fare Cafe which has an outdoor bar and room for 45 people. It will be open from 5 p.m. to 9 p.m. Thursday through Saturday, with cocktails and a limited menu. The indoor cafe is open Wednesday through Sunday from 11 a.m. to 5 p.m. Both the cafe and the patio are open to the public without the need for a museum ticket.