Razzoo's Cajun Cafethe upbeat, casual eatery that spotlights the flavors, fun and festivities of New Orleans, has launched a new lunch-centric value menu.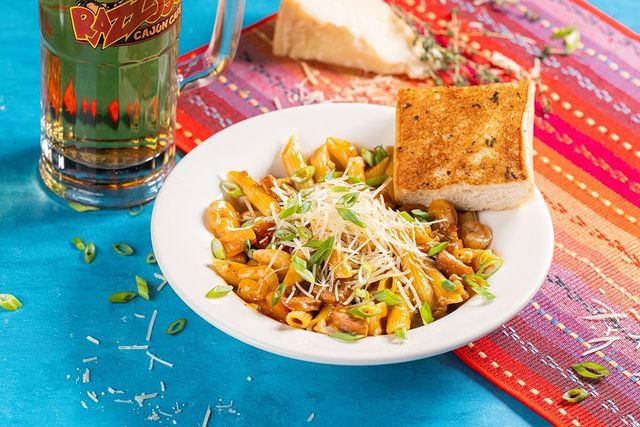 As customers face growing economic uncertainties, from inflation to tight budgets, At Razzoo is there to remind customers that we are here for you.
Starting now, customers can enjoy $9.99 in lunch items from 11 a.m. to 3 p.m. Monday through Friday.
Razzoo's Cajun Cafe The $9.99 lunch menu includes:
Jalapeno Catfish: Hand Breaded Fried Tenderloins with Jalapeno Cheese Sauce over Rice. It includes green beans and garlic toast.
Jambalaya Pasta: Andouille sausage, chicken, shrimp and fish tossed in a spicy tomato cream sauce over penne pasta, vegetables and garlic toast.
Mid-day etoufe: With choice of chicken or shrimp, served in a rich dark roux sauce with dirty rice and garlic toast.
Popcorn Shrimp Baskett: popcorn shrimp, jalapeno hushpuppies, and cherry mustard with your choice of side.
Gumbeaux & Salad Combo: Cup of At Razzoo famous okra, with a choice of seafood or chicken and andouille, served with a side salad.
Combine the lunch special with At Razzoo recently launched All Day Everyday Sips, which encourages customers to enjoy $3 Miller Lite and Bud Light pints, $4 Modelo pints, $5 wine and $5 Frozen Mardi Ritas™ and Frozen Hurrycane Hells™ $.
Guests can stay and enjoy At Razzoo $5 Happy Hour Chomps from 3-6 p.m.
The $5 Chomps include Cajun Straws & Pickles (fried pickles, onion straws, and jalapeno slices), Pups & Pops (jalapeno hushpuppies and fried popcorn shrimp), and Hot Honey Pups (spice-dusted jalapeno hushpuppies cajun and drizzled with honey).
Sharing is caring!